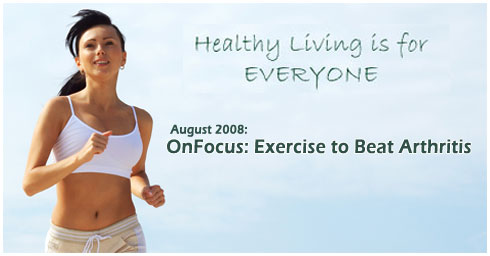 Exercise to Beat Arthritis
We all know by now that exercise will help arthritis sufferers. And, it is a major part of winning the battle against this tough disease.
The issue is not really how much you exercise. Instead, it is "finding the time to do it."
Energy Levels
High-quality liquid Glucosamine like Syn-flex® gives every arthritis sufferer a better shot at being more comfortable with their arthritis pain. And, it has a long history of success. But there is also no doubt that the average person with arthritis often complains about fatigue. There is an answer.
Acai for Arthritis
Acai Berry is in that class of 'superfruits' that has a history of providing you with a lot of energy. This is a big plus for those with arthritis. Not only does Acai provide more energy, it offers up a wide range of other potential health benefits.




© 2008, Synflex America, Inc.
Please unsubscribe here



1/4 medium red onion, minced
1/2 medium fennel bulb, trimmed and cored
1 (15-ounce) can chickpeas, rinsed and drained
4 jarred roasted sweet red peppers, chopped (about 3&4 cup)
1 (6-ounce) jar marinated artichoke hearts, rinsed, drained, and quartered, if whole
2 cups baby arugula
1 cup fresh flat-leaf parsley leaves
1/4 cup kalamata olives, pitted (about 2 ounces)
1/2 to 1 cup freshly shaved Parmigiano-Reggiano
Dressing:
1 small garlic clove, peeled
1 1/2 teaspoons kosher salt
1 teaspoon freshly grated orange zest
2 tablespoons white wine vinegar
Freshly ground black pepper
1/3 cup extra-virgin olive oil
For the salad: To mellow the minced onion, soak it in cold water for 10 minutes, then drain well, pat dry, and put in a serving bowl.

Meanwhile, make the dressing: Smash the garlic clove, sprinkle with 1/2 teaspoon of the salt, and, with the side of a large knife, mash and smear the mixture to a coarse paste. Put the paste in a bowl and add the orange zest, vinegar, remaining 1 teaspoon salt, and black pepper, to taste. Gradually whisk in the olive oil, starting with a few drops and then adding the rest in a steady stream to make a smooth, slightly thick dressing.
Using a handheld mandoline or a knife, cut the fennel lengthwise into long, thin slices. Add to the onion and toss with the chickpeas, peppers, artichoke hearts, arugula, parsley, and dressing. Scatter the olives and shave the Parmigiano-Reggiano over the top.
More at: http://www.foodnetwork.com